Phew-Phew[81 Japan/Germany]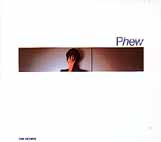 Highly Recommended!
This is a somewhat strange album
Phew was previously in the japanese No Wave band
Aunt Sally(around 78 and 79)
but this is no no wave (lol)
she recorded this album in germany with
some members of Can(Holger Czukay and Jaki Liebezeit)
and produced by Conny Plank
the music is a bit minimalistic and there are some electronics
musicaly its difficult to describe
personally i dont have any stuff by Can.
this is the Pass / Sky Station release from 2001
not the P-Vine re-release from 2005,wich ads some bonus tracks.
here some information:
Phew was a Japenese chick who was flown to Germany in 1981 and put together with Can's Holger Czukay and Jaki Liebezeit and genius producer Conny Plank. Clearly an attempt to reconstruct the original Can dynamic, with Phew as Damo. They made one record together on the PASS label which was, very early on (1991?) reissued to synch up with the release of a newer Phew record on Mute. That more recent LP was only OK. I have also seen a greyish black covered mid-period Phew record. Her eponymous debut, which I paid £4 for because the cover was mashed up (like I care!), is fucking fantastic. The production sound of this record is perfect. Like a Brancusi or a Ming Vase, it's perfect. Clean. Deep. Resonant. Tracks like Doze and Signal are often built on nothing more than a wobbling bass and cavernous chiming percussion. Phew herself is compelling.
source
password:citiesonflame
go go get it!