Kousokuya-1st['90 Japan Heavy Psych-Rock]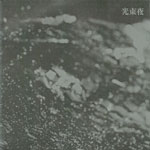 Highly Recommended
do leave comments



I'll be going on vacation tomorrow
for 3 weeks,but i might post something
tomorrow if i have some time left(im leaving around
13:00 gmt+1)


This is for people who like Fushitsusha, High Rise, and Acid Mothers Temple and other Heavy Psych bands from the Japansese (Underground) Scene
people who like Les Rallizes Denudes also might like this

i would even dare to say that its better than
Fushitsusha
a bit of wikipedia:
Kōsokuya is a
Japanese
dark
psychedelic rock
band. This
Japanese rock
outfit, founded by legendary guitarist
Jutok Kaneko
in the late 1970s, has released only two recordings internationally, and scant more in their local
Tokyo
underground scene. Their sound has been compared to Japanese psych-rock legends
Fushitsusha
.
Duster Reviews review
Amidst the hype surrounding Japanese psych bands like Fushitsusha, High Rise, and Acid Mothers Temple, the name Kousokuya has consistently been left off the list. Those bands are undeniably fantastic, and deserving of the good words they've received. But Kousokuya's absence leaves me scratching my head and wondering why.
This album, the band's first, was originally released only on LP in 1991. If it had been given a widespread audience in the U.S. at that point, perhaps the band would have earned the recognition that it deserves. But here we are over ten years later, with another opportunity – better late than never. Since its release, Kousokuya released one U.S. album, Ray Night, a live collection from Forced Exposure. But it's true that the band's leader, Kaneko Jutok, has never done the promotional work that some of his brethren have. And in the years since this debut, the band has released only a handful of albums and compilation tracks.
For the recording sessions that produced this album, the band consisted of Kaneko on guitar and vocal, Mick on bass and vocal, and Takahashi Ikurou on drums. Kindly, P.S.F. have added one bonus track from the same sessions, so this five-song CD is over an hour in length.
The 19-minute opener "The Miracle" starts off heavy and slow, dark and deep guitar psychedelia with a mood not unlike current-day "stoner rock" bands, though with a greater multi-dimensionality. The vocals are more than a little reminiscent of Keiji Haino's, though somehow more delicate and thus less intense. They remain pretty sparse – the focus throughout the album is on the instruments, which get extremely intense. About halfway through, everyone blasts into outer space: the drums are pounding ferociously, the bass is thick and powers it all forward, and the guitar spreads itself through the rest of the frequency spectrum with aplomb. Make no mistake, this is ROCK music, with an intensity easily comparable to today's densest psych purveyors.
As recording engineer Honda Shigeto puts in the awkwardly-translated liner notes, "every single note was clear, it shrunk all the distance with its power."

read the rest
here
password:citiesonflame
go get it!